A Cost Effective but Robust Platform for Small and Medium Businesses (SMBs)
Microsoft Access, a robust software application from Microsoft Corporation has rich features and functionalities which can be customized for your small and medium size business.
Microsoft Access is the only relational database and software application development platform in the world which is not only highly sophisticated but also very stable and robust, yet it is extremely economical & cost effective; and therefore an ideal choice for small and medium size businesses who are not in a position to spend tens of thousands of dollars to automate various functions of their businesses. Considering the limited business requirements of SMBs, there is absolutely no need for them to invest in expensive databases and development platforms to be successful.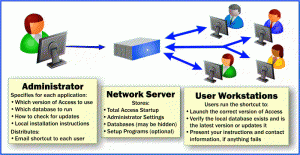 With Microsoft Access, customized applications can be developed for your businesses which can automate every single function of your small or medium size business in every industry, no matter what line of business you are in. Examples of some of the small and medium size businesses that can use Microsoft Access are:
Restaurant Buisness
Manufacturing Shop
Gardening Buisness
Shipping Company
Travel Agency
Technology Company
Cosmetic Buisness
Dry Cleaning Buisness
Baker Buisness
Even for Using MICROSOFT ACCESS for INVOICING in your small or medium business
A customized Microsoft Access Application can address the technology issues you face every day. We provide 24×7 Support and Development for Microsoft Access to our clients both Onsite and Remote. We develop customized applications that are specific to your business needs to run your business more efficiently with minimum of manpower.
There are a number of routine tasks where you are spending many hours every week which takes away your attention and impacts the success level of your business. With an inexpensive application like Microsoft Access, we can customize and automate most of your tasks. If you need help in any of the following areas of your business, please talk to us to understand how we can help and what a
customized Microsoft Access Application can for your business.
EXAMPLES of Tasks we can help to Automate with Microsoft Access:
INVENTORY MANAGEMENT – When to re-order and refill your stock of whatever material you use in your business to avoid a situation of zero stock of essential items. You may like to have an automatic message in advance before stock level reaches a certain level when you can reorder to avoid facing a day with zero stock. We can develop a customized Microsoft Access Application for you to do that plus a lot more.
TIMESHEET MANAGEMENT – If you have part-time employees whose working hours change from week to week, you can have a system in place to track their hours worked each week and link hours to their pay checks. This can process can be easily automated and customized based on your specific business needs.
Depending on your line of business, other possible domains where a customized Microsoft Application can help your business can be:
Assets Management
Contacts Management
Events Management
Issues Management
Marketing Projects
Sales Pipeline Management
Task Management
We have a dedicated Microsoft Access Team that caters to the needs of Small and Medium Businesses across the country.